In line with its core value of striving for excellence, Jetta is among the few that has an independent R & D team focusing on innovation projects.  The team has engaged on:
finding solutions to challenges posed by customers to meet new requirements that prevailing manufacturing processes cannot meet with;
developing new processes to cope with the increasing awareness in environmental and safety concerns; and
developing innovative daily life products that provide a better solution to people's needs.
Built on the solid experience in manufacturing, Jetta has successfully come up with a number of innovative processes and products.  Some of them have been patented and become Jetta's Intellectual Property (IP).
Jetta's R&D team has developed a number of new processes resulting in the realization of some innovative products for its customers.  Some examples are: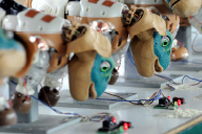 Hollow doll heads made by injection molding instead of roto-casting
Mini quiet AC motor;
Electroforming electrodes mold making process for highly detailed ornaments;
Goble shell printing and forming process;
Soft skin mold making and molding process for PLEO the robotic dinosaur;
Highly precision plastic gear tool making process with 'point to point' shrinkage compensation;
3D mapping software to generate flat plate artwork for contoured surface graphics.
Other than developing innovative manufacturing processes, Jetta has been putting effort in creating innovative products.  This is also part of the diversification effort Jetta made to move into non-toys production.  These innovations aim at addressing the physical needs of people.

"How can we brush our teeth cleaner?"  "How can we sleep better?"  With a view to providing a better solution to our daily life activities, Jetta has been in the process to commercialize some of these innovative products:
Electrical tooth brush that always brush away from tooth gum;
Intelligent mattress and pillow system that can automatically adjust the contour to provide 100% support to spine and neck for healthy sleep;
Neck brace that has ventilation fan providing comfort to patient in hot and humid environment;
Wheel chair that can be operated single-handedly with up hill and down hill safety features;
Wire animation actuation system using shape memory alloy.
In order to protect the results of Jetta's innovation, some of them have been patented and some of them are patent pending.
In June 2009 Jetta acquired the IP of PLEO the robotic dinosaur.  This provides a platform for Jetta not just applying its technical prowess in manufacturing but its creativity in product development and marketing.  It also opens up an market opportunity to Jetta that never has before.
A little history
In mid 90s, a challenge came when the banning of using PVC in toys was under discussion.  McDonald Europe decided to ban the use of PVC in its Happy Meal premium toys.  Substitute materials are available for most of the PVC components but not for hollow doll head.  Traditionally, hollow doll head is made in PVC by roto-casting.  The challenge is to make the doll head in a non-PVC material and at the same time to mold the head without a noticeable parting line along the face.  No alternatives were known at that time. 
Jetta took up the challenge and successfully developed a new mold making and molding process.  With the new process, hollow doll heads can be made by injection molding using TPE material.  Compared with the traditional roto-casting process, the new process gives better quality and uses less labor.  The new process was subsequently granted a US patent.  Other than internal manufacturing, Jetta has licensed the new process to other manufacturers under royalty agreement.  It is believed that the new process has great licensing potential when PVC is completely banned in doll making.